How We Are Writers works
Any school in the UK can create their own We Are Writers book. All they need is for a teacher, staff member or parent to volunteer for the role of book co-ordinator.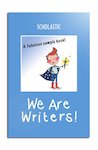 Here's how a We Are Writers book is created:
The book co-ordinator registers on this website and sets up their online We Are Writers book.
Pupils add chapters to the online book. They can log on at http://writers.scholastic.ie from a PC in school or at home, create their own chapter and type their work into it.
The book co-ordinator chooses a cover picture for the book, and uses our online form to generate a promotional poster and parents order form.
Once everyone is happy with the book, it's time to order a sample copy! It is delivered within 14 working days of ordering, along with five

FREE

promotional posters.
Hand out the order forms and hang your posters.
Everyone admires the sample book.
Order forms are collected in and the book co-ordinator lets us know how many books the school would like to buy.
Final copies arrive 14 working days after ordering, ready for pupils to take home.